P+H: Heritage Talks – report
2NQ Team, 29 September 2020
In 2019-20, 2NQ ran a programme of heritage events and activities called People + Heritage with the communities around Finsbury Park, supported by funding from the National Lottery Heritage Fund and Haringey Council. One of the main programme strands was a series of public talks about local heritage.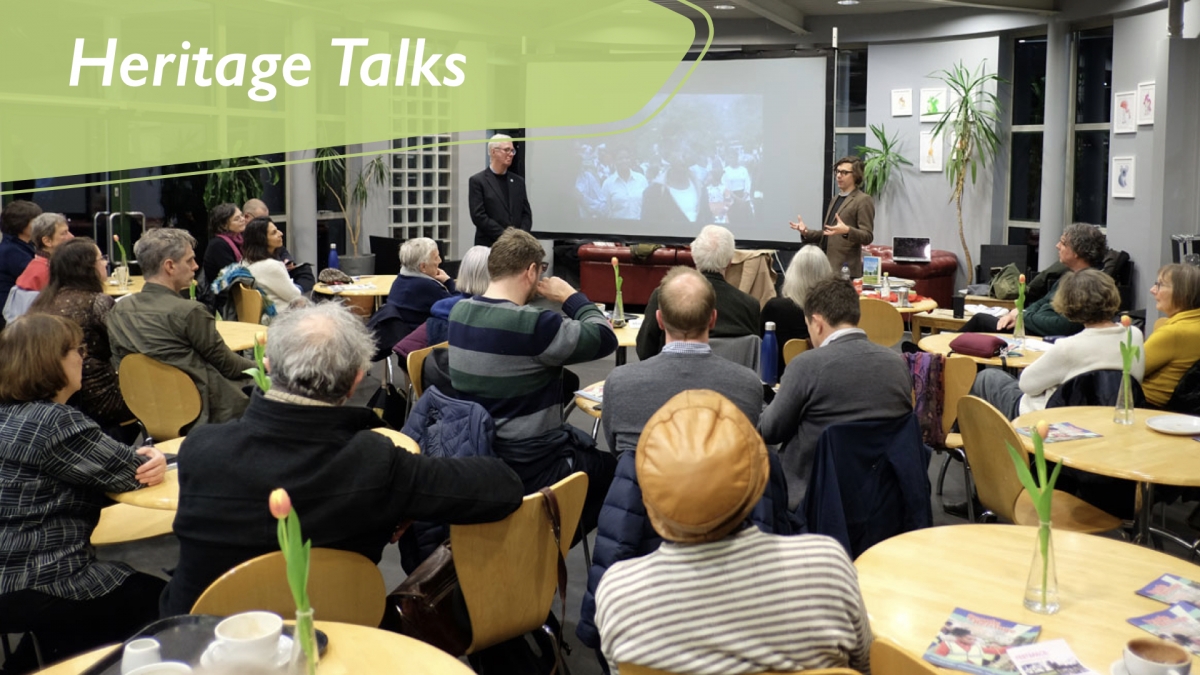 What happened
2NQ organised and hosted a series of five talks about the history and heritage of Finsbury Park. All were well attended, with attendees actively participating in Q+As and giving positive feedback afterwards.
Top take-away:

The history of place crosses community boundaries and gives all residents a sense of ownership. Sharing and exploring this heritage together supports cohesion and resilience by fostering awareness of the ongoing contribution to heritage by the present population.
The talks
The programme was delivered as follows:
29 January: A Walk in the Park – The author Travis Elborough on the history of People's Parks in London
19 February: #Everything150: Objects that tell a story – Museum of London curator Kathryn Davis, Bristol University heritage media specialist Dr Angela Piccini and 2NQ programme curator Simon Poulter discussed 2NQ's contemporary archeology project completed in Finsbury Park's 150th anniversary year
11 March: The Suffragettes – Professor Krista Cowman of the University of Lincoln on the association of suffragettes with Finsbury Park in the context of the wider campaign for votes for women
24 June (online): Finsbury Park in the 1930s – Dr Paul Jackson of the University of Northampton on political demonstrations in Finsbury Park in the 1930s including Oswald Mosley and the Blackshirts
8 July (online): Hornsey Wood Before Finsbury Park – local historian John Hinshelwood, former curator and archivist of the Hornsey Historical Society, recounts the story of the Hornsey Wood Tavern and the surrounding area before Finsbury Park was created
The first three talks took place in Finsbury Park Café, which 2NQ had booked for evening sessions. The last two talks took place after the imposition of the Coronavirus lockdown and were therefore held online.
Attracting attendees
The heritage talks were intended for the local community and open to all comers. To promote the series, we posted some 40 messages on social media, sent out 5,489 emails over 25 campaigns, and included an article in the People + Heritage Zine which was distributed locally.
The talks attracted a total of 226 attendees over the series, with average attendance of 42 for each of the talks taking place in Finsbury Park Café and 51 for the online talks. The attendees were mixed in terms of gender and community backgrounds, mostly middle-aged and older.
Survey responses showed that email (34.8%) and word of mouth (26.1%) were the most effective methods for attracting attendance. 2NQ's Finsbury Park Calendar website at http://www.finsburypark.london/ accounted for 13% and social media 8.7%. Ticketing for both the physical and the online events was administered through Ticket Tailor.
Outputs
We devised a programme of talks about different aspects of the heritage associated with Finsbury Park and its communities, and we approached a number of national and local experts to present the talks.
We created event pages on the Finsbury Park Calendar and Ticket Tailor websites as well as emails and social posts.
We hosted three talks in the Finsbury Park Café, using AV projection for the speakers' presentations, followed by Q+A sessions with audience members.
Following lockdown we hosted two talks using Zoom, followed by Q+A sessions with audience members.
We edited the two online talks and subsequently made them available via the 2NQ website at https://2nq.uk and YouTube channel at https://www.youtube.com/channel/UC_SX3zZ-vanNiYclA6Knm4Q.
We posted five blogs arising from the talks on the 2NQ website.
Project outcomes
The talks generated numerous spontaneous interactions which went on to contribute to other elements of the programme:
1. Local historian John Hinshelwood attended the first talk by Travis Elborough on the history of People's Parks in London, and this directly led to his own talk, the last in the series, on the history of the local area before Finsbury Park was built.
2. After John Hinshelwood's talk the 2NQ team received an email from local resident Peter Gosnell, who has given permission for it to be reproduced here:
"I am writing this with the help of my daughter, Elaine; I have always been visually impaired and now in my 90s, I use a wheelchair. Our friend […] attended one of the talks associated with Finsbury Park. She was pleased to tell us that my name was mentioned, as reference was kindly made to research I had undertaken on Hornsey Wood House in the 1960s. Thank you. I very much enjoyed doing this work and we were all delighted to hear that it is useful to others.
"My parents moved from Fulham to Woodberry Down in 1954 and my wife and I followed them in 1955. I worked in the Civil Service and have always been interested in London's history. I enjoyed exploring the local history including Northumberland House, which stood on the site of Rowley Gardens, and that of the New River. Much later I was Secretary of the successful campaign which fought for years to save the New River and the Stoke Newington reservoirs.
"Below is a photograph of the view from our flat which we have lived in since it was built in 1961. The New River can be seen winding through Finsbury Park and St Joseph's Retreat is on the horizon."
The photograph mentioned, by Elaine Gosnell, was subsequently included with her permission in the People's Park exhibition.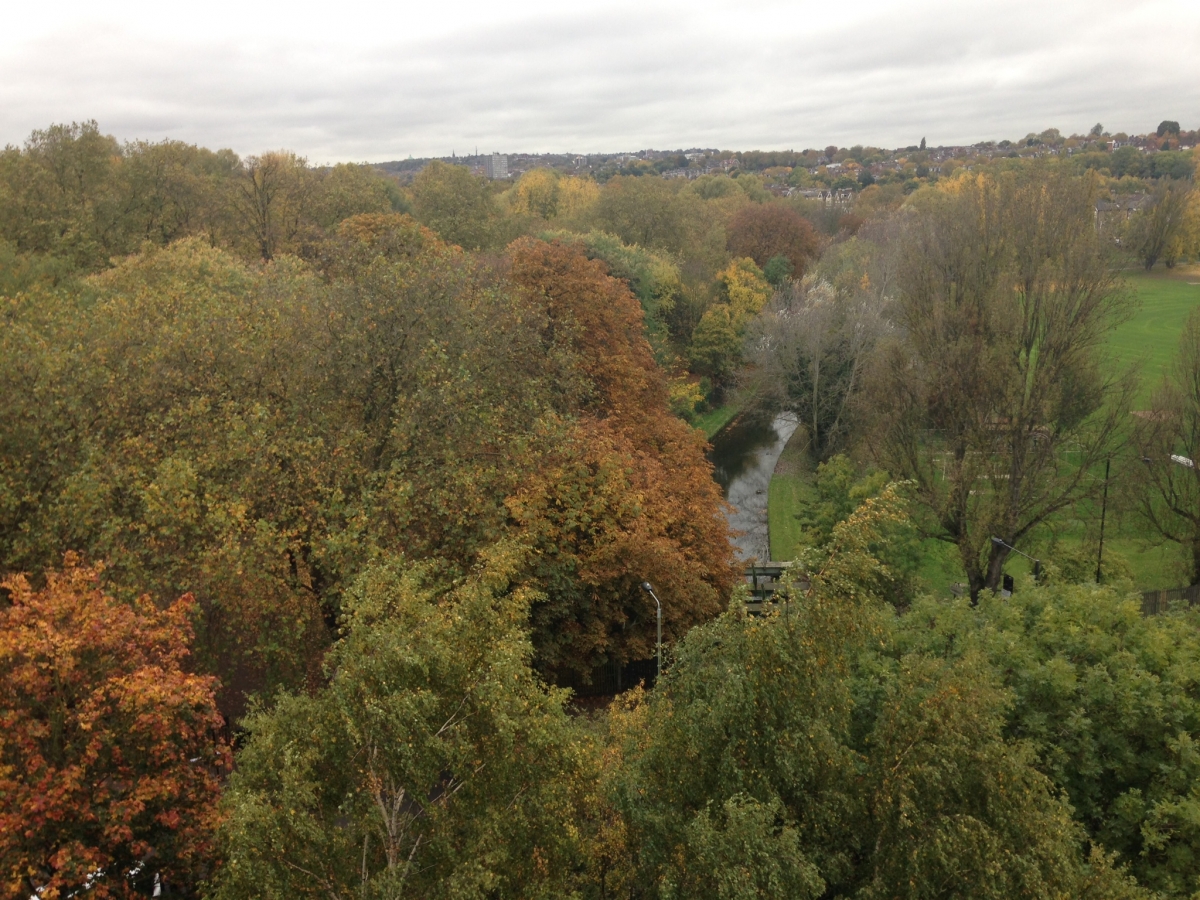 The New River in Finsbury Park. Copyright © 2020 Elaine Gosnell.
3. After his talk, Dr Paul Jackson posted an article on the Finsbury Park Blog at www.2nq.uk/blog, and the talks also led to the regular publication of posts about local history on the blog by the Bruce Castle Museum and Haringey Archive team, whose archivist Julie Melrose attended several of the talks, and who also contributed numerous photographs and information for the People's Park exhibition.
Evaluation
After the conclusion of the series a survey was circulated to attendees by email and social media, to which 23 responses were received.
Feedback was sought on the programme as a whole, individual talks and the experience of both the physical and online events. Respondents were also invited to offer views and comments on what could be improved.
How did you rate the programme in terms of topics covered?
91% of respondents rated the programme as Good or Excellent, and 9% as Fair.
Which sessions did you find the most interesting?

All talks were positively received. The most popular was hyper-local history by a local historian, followed by the two talks that explored the park's radical history as a place of protest.
Physical and Online: how well did they work?
Broadly the arrangements for both the physical talks in Finsbury Park Café and the online talks met with approval.
Which did you think was the most effective format?
But although the online talks were well attended and highly rated, given the choice the preference was mostly for physical events that bring people together.
Comments
When it comes to local heritage, members of the community are often very interested, sometimes knowledgeable and always exacting. First, not everyone had been told about the talks and even now some were not aware of the content since made available on YouTube. As some comments made clear, we can always do better:
"I did not know about the talks before lockdown - I wish I had, and would certainly like to be on the mailing list for future events."
"I didn't know that the talks went online."
"Didn't hear about the online talks or would have attended."
"Sadly I was unaware about the talks being online, if I'd known & if I could've watched at a different time, then I would've done so. I hope there will be another season."
"I only heard about the talks at the last one."
On the unexpected opportunity to compare the experience of physical and online talks, most respondents were unequivocal that nothing beats getting together in the real world:
"It's just nicer to be with people."
"Better audience involvement."
"Good to meet new people."
"Good to get out, feel part of a bigger community."
"Physical presence means fewer distractions, more opportunity for spontaneity, and seems to provide better interaction between audience and speaker as well as audience members."
Of those who think "real world is best", some did acknowledge the benefits of having online too:
"Networking opportunities, real interaction - but the online ones were fine, too and certainly better than not having them."
"Speaker able to engage with audience and respond though I did think the questions post-[online]-talks were good."
Others observed that both formats have their advantages:
"Both had merits - in person was good with the public having a more direct experience and interaction with the presenter. Online was great to have access from home which was very convenient."
"Both formats have some pros such as: Physical - pre/post event socialising & Online - ease of access (e.g. I was in another part of the country but still able to participate and enjoy it)."
"Unable to attend Café events due to work."
"Each had its advantages, ideally do a hybrid."
Excellent feedback was received on the quality of the overall programme:
"The programme was excellent - super interesting and highly relevant! I just regret missing 2 of the talks. Well done!"
"I enjoyed the range of talks immensely."
"Very interesting to learn more about the area I live in."
"I thought the talks were great - they covered a wide range of interesting subjects and all very well presented."
"A good initiative."
While all the talks scored highly in terms of approval, individual comments offered more nuanced feedback:
"The political talks about Suffragettes and the 1930s were the most interesting."
"I did not find the talk on fascism particularly relevant to Finsbury Park and I think this needs to be corrected in future."
"It would be good to have fewer academics speaking."
"I was absolutely inspired by the talk on Hornsey Wood. I thought the talk on 1930s fascism was a bit too academic for me and felt like you needed to have some prior knowledge of this subject, which I didn't. But please do more, I find them completely fascinating and it's great to learn more about the area I live in. Thank you so much for organising them."
"The Hornsey Wood before FP prompted me to carry out a significant amount of further research. My knowledge of Finsbury Park (the area) before it was developed in the later part of the 19th century was patchy. The talk gave me the incentive to fill some of the gaps."
As for the future, many respondents called for the programme to be continued in some way and shared their views on how we can make it even better:
"I really wish I could have come but if weather is bad it is difficult for me in a wheelchair. Please repeat or continue in Spring."
"My personal circumstances meant that I missed two of the talks so I would love to have them repeated."
"Very much liked the programme and sorry I wasn't able to attend the online talks. Main problem was not happy going home from the Café in the dark through Finsbury Park."
"The only thing I'd mention was it was pretty dark getting to the café for 6pm in the middle of the park in Jan. Not great for lone attendees."
"I hope you'll be able to put on more talks and we'll all try to encourage more local people to attend."
"It would be well worth recording live talks for those who can't attend."
"I felt there was a special connection with the talks held in FP Café - however, it would benefit the speaker if the noisy cafe noises could be suspended during the talk; a solution could be to provide a 10-min break for people to get hot drinks."
"I enjoyed the talks I saw, missed out on the Suffragettes due to a prior engagement, making them available online afterwards via YouTube for example would be a plus."
Analysis of the results
1. Assumptions that were proved right
Local heritage is a shared asset that brings people together.
The history of place crosses community boundaries and gives all residents a sense of ownership. Sharing and exploring this heritage together supports cohesion and resilience by fostering awareness of the ongoing contribution to heritage by the present population.
There is a widespread interest and demand for such programmes.
The programme demonstrated widespread engagement with residents in all geographic areas around the park, many of whom expressed the desire that it should continue.
2. Lessons learned
Where possible, balance the programme between wider external perspectives and local knowledge.
Wider resonance of local heritage is valued by attendees, but the local dimension should be clear and substantive.
Local dissemination of events and activities is a key factor in community cohesion.
Borough-level information is not sufficient to foster community relations. The most effective form of dissemination is when everyone knows where to find information that is easily accessible for them. It is worth putting effort into further development of resources such as the Finsbury Park Calendar and coordination with other local information providers and stakeholders.
Real-world experiences are preferable, but physical and online events both have advantages.
The ideal format for heritage talks is an event at an accessible local venue with a live audience, filmed and edited for subsequent viewing and legacy content online.
Consideration should be given to expanding the appeal of such events.
It would be worth exploring the potential for fostering inter-generational contact and cohesion by including speakers and topics appealing to under-represented groups, e.g. young people, within a balanced programme.