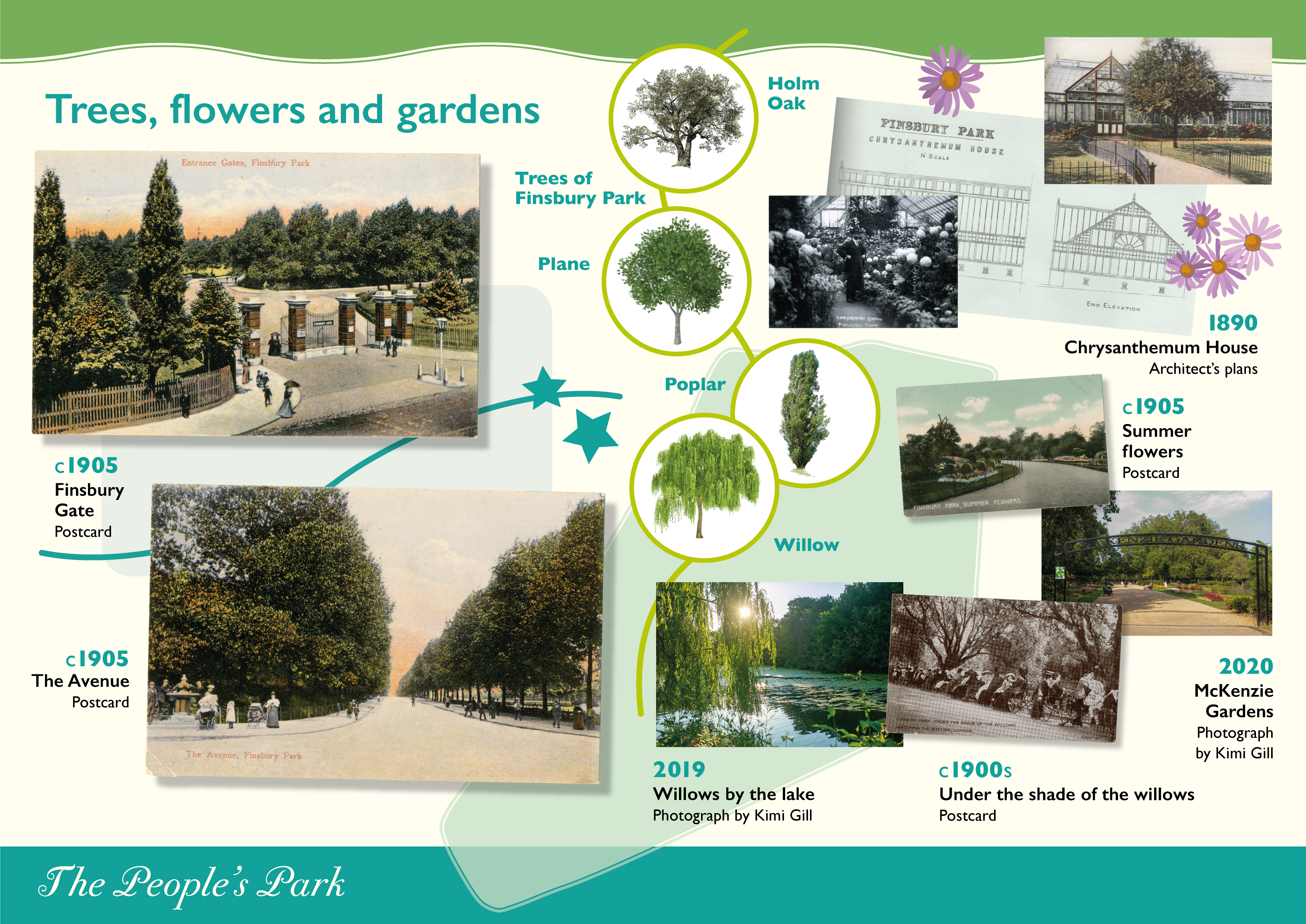 04. Trees, flowers and gardens
Alexander McKenzie, whose name graces the park's gardens to this day, was employed to take on the design of Finsbury Park. Among his ideas were the expansion of the lake, the creation of flowerbeds and the development of the 'American Gardens' in the northern part of the park, with beds of azaleas from the new world. Similarly styled American gardens can also be found in Dulwich Park and Peckham Rye Park in South East London. When the park opened it had its own plant nursery, overseen by Thomas Cochrane, the first Superintendent of Finsbury Park.
In 1890 a Victorian-style Chrysanthemum House was constructed to house the park's prize chrysanthemums. It was this glass building, sadly no longer there, that cemented Finsbury Park's reputation as 'a first-class park'. People travelled from all over London and beyond to see the famous, yearly chrysanthemum shows, with posters on the Underground to boost the crowds.
Many of Mckenzie's innovations can still be seen today, following the restoration and redevelopment that took place in the early 2000s. Recalling Pitt the Elder's characterisation of parks as "the lungs of London", McKenzie dubbed Finsbury Park "the lungs of the metropolis".
did you know?
… willows and poplar are from the same family of trees.  You'd never guess, one with a sprawling, unwieldy habit, the other, tall, neat, tidy and narrow. It is this contrast, favoured by many landscapers, that has seen them planted together in parks across the world, including this one.
The People's Park: augmented reality
As part of the exhibition we have created an augmented reality trail which you can access by using your smartphone to scan the QR code on the boards in the park. This allows you to explore a host of questions and images linked to the themes and stories on the nearby boards.
What flowers are in the picture below? What is the link with Finsbury Park?