Time Portals in Furtherfield
Thea Behrman, 10 May 2019
Time Portals exhibition opened at Furtherfield Gallery last night and is open every weekend 11am – 5pm till 20 October 2019. Located in the middle of Finsbury Park, next to the children's play area, the exhibition is inspired by American sci fi writer Octavia E Butler. It invites visitors to imagine alternative histories, possible futures and to rethink time itself during this, the Park's 150th anniversary year.
On approaching the Gallery, download the 'What We Can Do' app from Google Play to discover a layer of Octavia E Butler text and hidden AR artworks created especially for the exhibition by Antonio Roberts and Studio Hyte – images magically appear as you view the billboard and surrounding park landscape through the app on your mobile.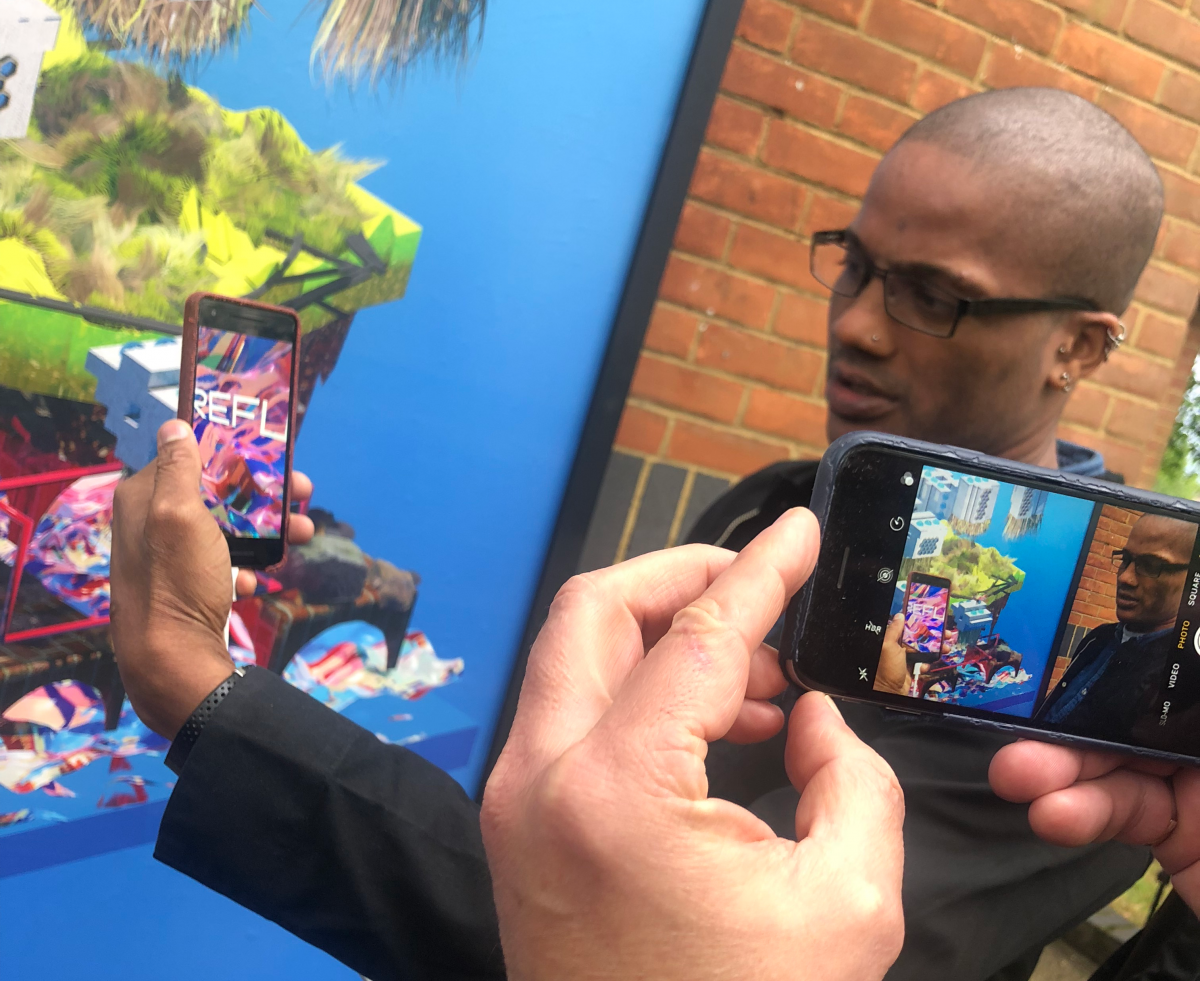 Above: Artist Antonio Roberts demonstrates the augmented reality view of his Time Portals artwork.
Inside the gallery nestles Archaeabot, an underwater robot-being created by Anna Dumitriu and Alex May. Inspired by the first living organism, will humans have to adopt this new resilient half being/half robot form as the only way to survive environmental breakdown? Children visiting the Gallery are invited to create their own imaginary 'anibots' in response.
Elsa James' work Circles of Blackness Hologram is a conversation in holographic form between James in the present day and a woman who moved to Finsbury Park at the time of the Park's opening 150 years ago. The work is an act of social justice across a 150 year time leap, in true Octavia E Butler style.
The Time Machine in Alphabetical Order by Thompson and Craighead is a mesmerising work – I encourage visitors to take a moment or two (more if you can!) to absorb its enchanting effects – a welcome escape from frenetic and seemingly ever-accelerated existences.
Find out about all the artworks on show and events taking place here.
Time Portals is the first exhibition within Furtherfield's 3-year Citizen Sci Fi project. Find out more at #citscifi