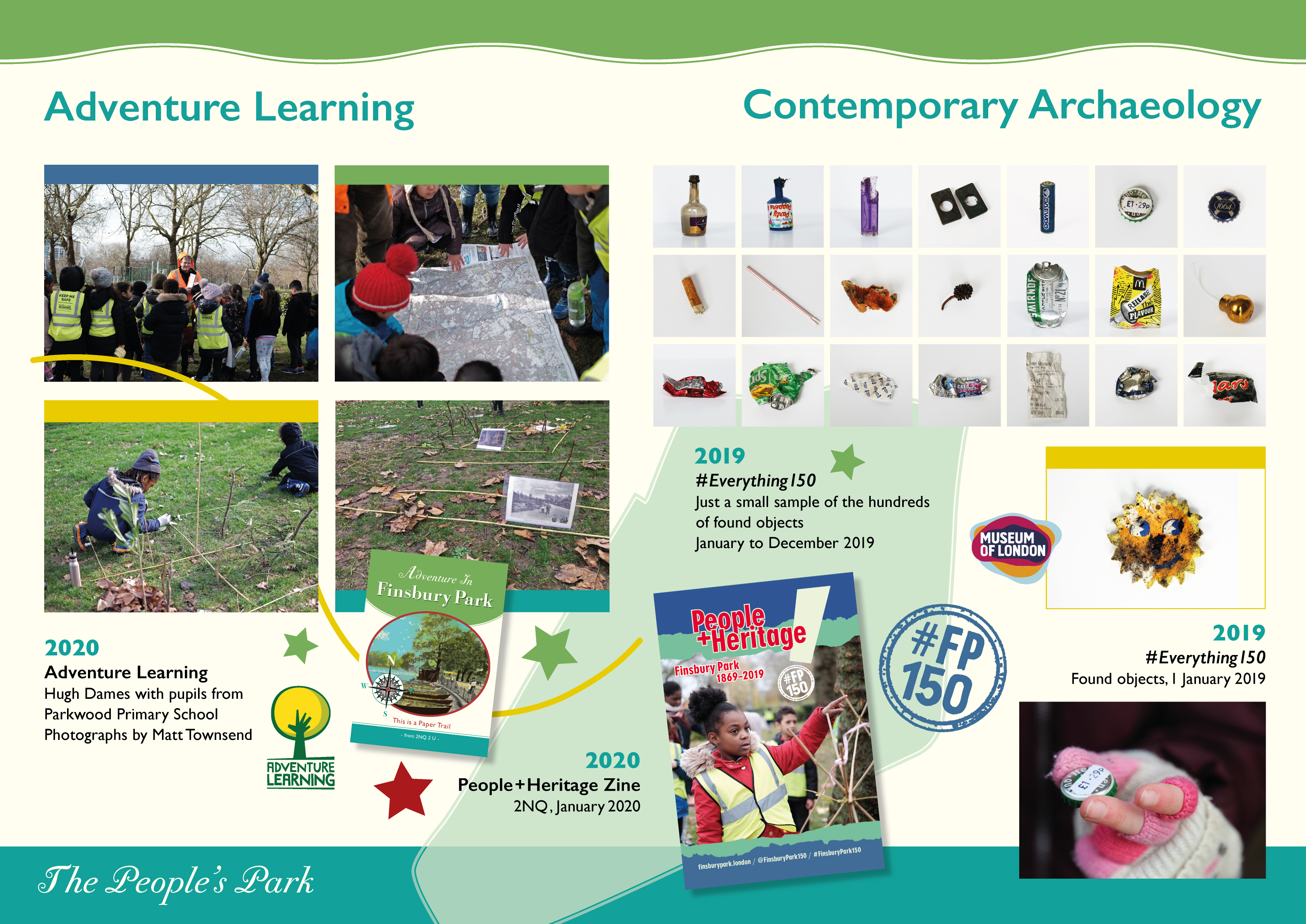 13. Adventures and Archaeology
In 2019 2NQ launched a number of initiatives leading into 2020 and its People+Heritage programme, with support from National Lottery Heritage Fund and Haringey Council.
Adventure Learning
The programme got off to a great start in November 2019, with children from Stroud Green Primary working with 2NQ's Adventure Learning Lead Hugh Dames and Museum of London assistant curator Matt Williams.
Referring to old pictures of the park, the children worked in groups to recreate maps and scenes from history, using natural materials found nearby. In 2020 a further nine local schools drawn from all three boroughs took part: Chestnuts, Tree House, Haringey Tutorial, Parkwood, Holy Trinity, St John's Highbury Vale, St Mary's C of E, Sir Thomas Abney and Ambler Primary.
#Everything150
We spent 2019 collecting 'everything' we found in Finsbury Park. Meeting the first Sunday of every month, a varied group of collectors walked together across the park, discovering things and sharing the spoils at the end of each walk. As well as numerous strange and random objects, we found countless beer bottle tops, sequins, crisp packets, smashed sunglasses, canisters, wildlife and evidence of nefarious activities.
#Everything150 objects collected throughout the year are being photographed to become part of Museum of London's 'Curating London' collection. We'd like to thank the regular attenders and all who have contributed both as finders and photographers.
The People's Park: augmented reality
As part of the exhibition we have created an augmented reality trail which you can access by using your smartphone to scan the QR code on the boards in the park. This allows you to explore a host of questions and images linked to the themes and stories on the nearby boards.
This smiley sun pendant was one of the hundreds of objects gathered by members of the community during the monthly #Everything150 walks through the park in 2019.