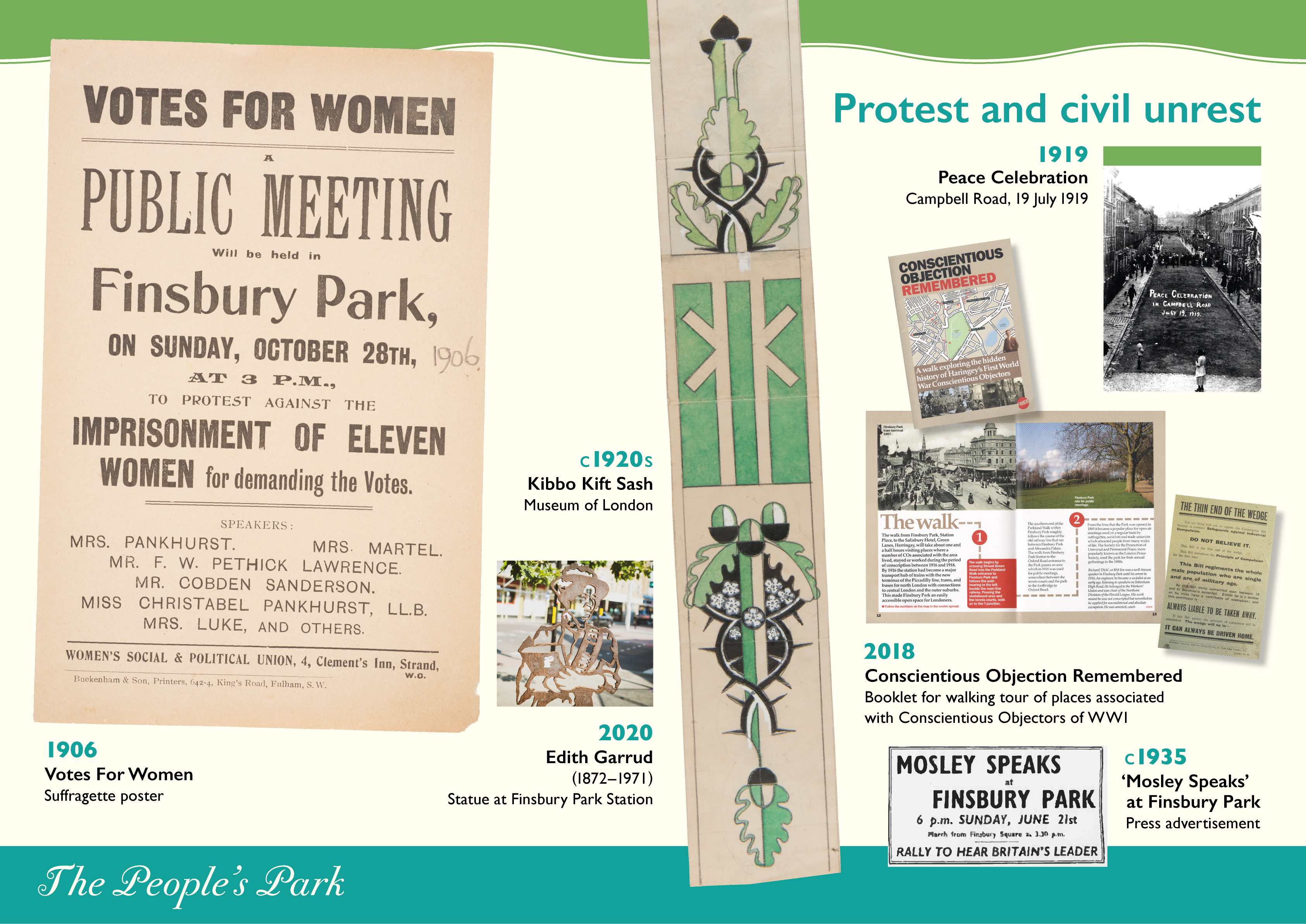 07. Protest and civil unrest
Finsbury Park has been closely associated with protest and civil unrest. The late 1800s and early 1900s saw the rise of the Suffragette movement and the emerging instability in Europe that led to the outbreak of World War One in 1914.
The Women's Political and Social Union was founded in 1903 by Emmeline Pankhurst and her daughters Sylvia and Christabel. On Sunday, 28 October 1906, a public meeting was held in Finsbury Park to protest against the imprisonment of eleven women for demanding the vote. The Representation of the People Act was not passed by Parliament until 1918, and the following year Nancy Astor became the first woman to be elected as a member of parliament.
Edith Garrud, memorialised in the cut-out statue at Finsbury Park station, was one of the first female martial arts instructors and she trained the suffragettes in self-defence.
In April 1912, The Daily Herald was born as a socialist daily paper and a voice for radical causes. The North London Herald League – one of numerous 'Herald Leagues' that sprang up to organise campaigning in the industrial unrest of the period – was active in the area around Finsbury Park.
The London Peace Society had used the Park for its annual gatherings in the 1880s, and the Finsbury Park area was notable for its Conscientious Objectors after conscription was introduced in 1916. Those who took a stance were remembered recently by a walking tour of local places associated with them organised by the Haringey First World War Peace Forum. The booklet about the walking tour of places associated with the WW1 conscientious objectors is available free here.
The 1920s and 1930s saw the Park play host to gatherings of groups from both sides of the political divide, from Kibbu Kift's Movement for Social Credit, to the politician Oswald Mosley's far-right Blackshirts.
The People's Park: augmented reality
As part of the exhibition we have created an augmented reality trail which you can access by using your smartphone to scan the QR code on the boards in the park. This allows you to explore a host of questions and images linked to the themes and stories on the nearby boards.
Below is one of the images near Board 7. Do you know who it is? (Clue: she was one of our most famous Suffragettes, and mother to three more.)