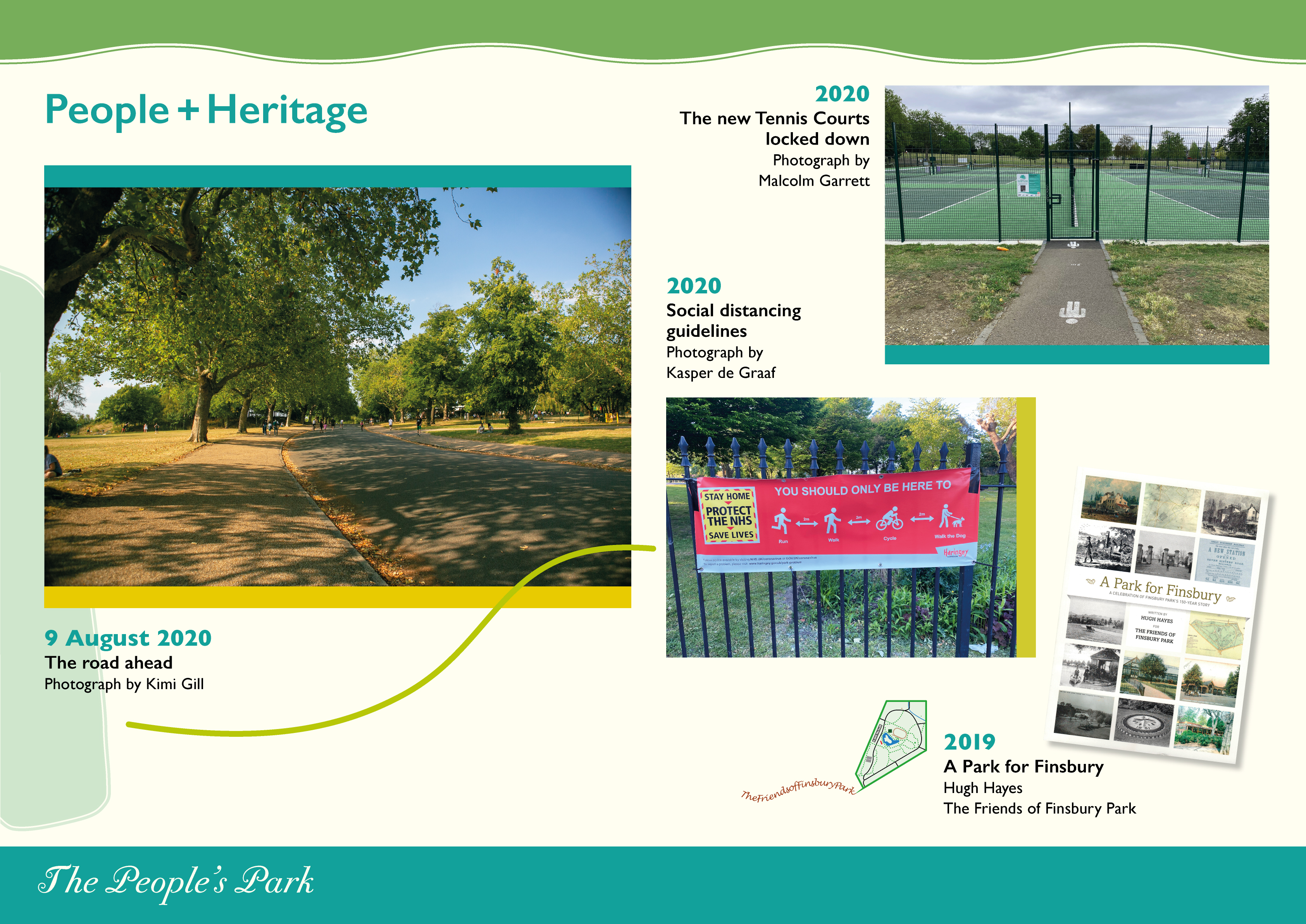 16. People + Heritage
This exhibition reminds us that the heritage of Finsbury Park holds the key to its future as an important and treasured asset for the local community and for London as a whole. The park shapes the identity not only of that green and open space where people can meet, play sports, engage in leisure activities and relax, but of a large, diverse and densely populated area of the metropolis spread over eight wards in three London boroughs.
People + Heritage, the cultural heritage programme developed by 2NQ, has been celebrating that identity in a wide range of activities launched in 2019, Finsbury Park's 150th anniversary year – and, unexpectedly, continuing through the Coronavirus pandemic.
Adventure Learning in Finsbury Park: physical sessions in the park with local schools plus, following the Coronavirus lockdown, online Adventure Learning activity packs for families.
The Safe Space art workshop for older people and carers: a Finsbury Park art workbook and activity pack with online group tutorials and non-digital support by telephone and post, specially designed to work both in lockdown and normal settings.
A series of well-attended Heritage Talks – on London Parks by Travis Elborough; the #Everything150 project (Kathryn Davis and Dr Angela Piccini); the Suffragettes (Prof. Krista Cowman); Finsbury Park in the 1930s (Dr Paul Jackson); and Hornsey Wood before Finsbury Park (John Hinshelwood). The last two talks, after lockdown, took place online and edited versions can be viewed on the 2NQ YouTube channel here.
A project to create a three-dimensional LIDAR scan of the whole park to offer new ways for the community and artists to engage with the Park's heritage.
This People's Park Photographic Exhibition, an expanded version of a previous exhibition shown in the park in 2019 as part of Finsbury Park's 150th anniversary celebrations and the Mayor of London's National Park City Festival. The expanded exhibition is presented physically and with augmented reality in the park, and online here.
The People's Park Photographic Exhibition was curated and designed by Malcolm Garrett with support from Simon Poulter, Kasper de Graaf, Katy Hawkins, Hugh Dames, Kimi Gill, Julie Melrose (Bruce Castle Museum and Archive) and Hugh Hayes (A Park for Finsbury). Photographers include Alan Denny, Matt Emmett, Malcolm Garrett, Kimi Gill, Elaine Gosnell, Kasper de Graaf, Sam Gullam, Sophie Mellor, Simon Poulter, Paul Ros, Julia Szalewicz, Matt Townsend, Matthew Usher and a host of unsung heroes whose archive images form the backbone of this exhibition. Thanks to Jonathan Wells for fabricating the A-frames, and to Josh & the team at Captain Cyan for printing the panels.
Thanks for support and contributions to the programme are also due to Nicola Baird, Mike Barson, Susie Barson, Joanna Bornat, Clive Carter, Ruth Catlow, Krista Cowman, Eldridge Culverwell, Kathryn Davis, Simon Donovan, Travis Elborough, Simon Farrow, Sarah Garrod, Peter Gosnell, Tony Healey, Simon Hunt, Sarah Jones, Talal Karim, Derek Lawrence, Dorothy Newton, Clare Potter, Jo Roach BEM, Domenico Sergi, Danny Singh, Matthew Williams, Paul Wood.
Organisations contributing included: Bruce Castle Museum and Archive, Finsbury Park and Stroud Green Neighbourhood Plan Forum, Finsbury Park Trust, Friends of Finsbury Park, George Padmore Institute, Haringey First World War Peace Forum, Images&Co, Imperial War Museum, Islington Faces, Islington Local History Centre, London Metropolitan Archives, Museum of London, Ordnance Survey, Pedal Power.
The People + Heritage Programme is supported and funded by the National Lottery Heritage Fund and Haringey Council.
2NQ is a not-for-profit organisation developing community-based arts and cultural activities. 2NQ develops its programmes in consultation with local people and community groups through regular community meetings. The 2NQ team are: Simon Poulter (Curator); Thea Behrman, Kasper de Graaf, Malcolm Garrett (Directors); Katy Hawkins (Safe Space Project Manager); Hugh Dames (Adventure Learning Lead), Giulia Filié and Bartolomeo Poggi.
A Park for Finsbury, an excellent book covering the full history of Finsbury Park by Hugh Hayes, republished by the Friends of Finsbury Park and updated for the 2019 edition, is available here.
The People's Park: augmented reality
As part of the exhibition we have created an augmented reality trail which you can access by using your smartphone to scan the QR code on the boards in the park. This allows you to explore a host of questions and images linked to the themes and stories on the nearby boards.
The kite is the distinctive logo of the Friends of Finsbury Park which anyone who loves and cares about the park can join.